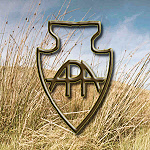 The APA Signature Show, hosted by the Museum of Western Art in Kerrville, TX, opened to a continuously large crowd. After years of emailing Signature Members back and forth it was great for the Signature Members to finally meet several of the others in person at the opening reception.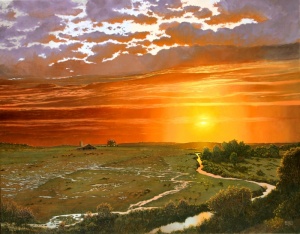 The show was very well received by the MoWA as well as the public, which made us all very happy! Winning the Arrowhead (Hosting Facility's Choice) Award AND the Plainsman (People's Choice) Award was "Renewal" by Barron Postmus.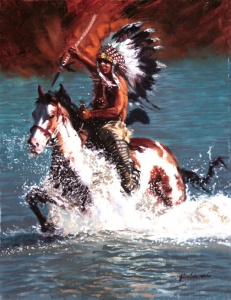 Winning the Golden Spur (Artists' Choice) Award was "Ready for Battle" by Glen Edwards. Congratulations to these two artists as well as the participating Signature Members in this show! It was a high quality and successful show thanks to all of them!
If you were not able to see the show in Kerrville, TX, please take a look at it on the APA website: www.americanplainsartists.com
The prospectus for the 2019 APA 34th Annual Juried Exhibit & Sale was put on the APA website May1st and we have already been receiving entries! The entry due date is August 24, 2019 for sending in your jpgs, entry form, and membership & entry fees. On the APA website click on "Shows and Events" and then "Juried Show Entry". That will get you to the page where you can download and print the prospectus. It is also the page where you can select the tabs to fill out your entry form and to pay your fees. If you have any questions, please contact judy@americanplainsartists.com.
We are looking forward to seeing everyone's jpgs for jurying and to a fantastic show at the Pearce Museum at Navarro College in Corsicana, TX. The Pearce Museum staff is very much looking forward to our show, too! So, paint and sculpt great artworks and get the jpgs of them sent for jurying to the four people listed on the prospectus!
If you are not an artist but just love great art, be sure to mark your calendar for the Opening Reception from 5:30-9 PM, October 10, 2019, at the Pearce Museum for the APA 34th Annual Juried Exhibit & Sale! Hope to meet you there!
Judy McElroy
APA President & Show Chairlady