APA 2021 Signature Show
Awards
The American Plains Artists (APA) Signature Show opened at 2 PM, Monday, March 15, 2021, at the Petrified Wood & Art Gallery in Ogallala, NE, to a large, steady crowd despite two major highways being closed from the middle of Nebraska all the way to Utah due to bad winter snowstorms in western Nebraska and Wyoming.
Realistic and representational artworks of the American Great Plains–the wildlife, landscape, people, and the life of the Plains–were exhibited by twenty-two APA Signature members from across the U.S.A. Nationally recognized and highly respected Awards Juror Don Dernovich awarded the following:
BEST OF SHOW: "Comfort Mood", an oil painting by Sherry Blanchard Stuart of Scottsdale, AZ
THREE PUBLISHER AWARDS OF EXCELLENCE
"Mama's Boy", an oil painting by Judy Osburn of Norman, OK–Quarter-page ad given by Art of the West, Andrew Kane, Owner/Publisher;
"Silence Speaks" a bronze sculpture by Mary Michael, of Belt, MT– One month digital ad given by Fine Art Connoisseur, B. Eric Rhoads, Publisher;
"Collectibles", an oil painting by Cheryl Roush of Midland, TX–Half-page ad given by Western Art & Architecture, Tim Newton, Publisher.
Other awards included the Arrowhead Award chosen by the Petrified Wood & Art Gallery–"General's Game", a colored pencil artwork by Eileen Nistler of Upton, WY, and the Golden Spur award chosen by the APA Signature Members–"Grand Autumn Day", an acrylic by J. I. McElroy of Gurley, NE. A special "Ogallala" Award given by the APA was won by "Prairie Wind", an oil painting by Barbara Summers Edwards of Smithfield, UT. This award received the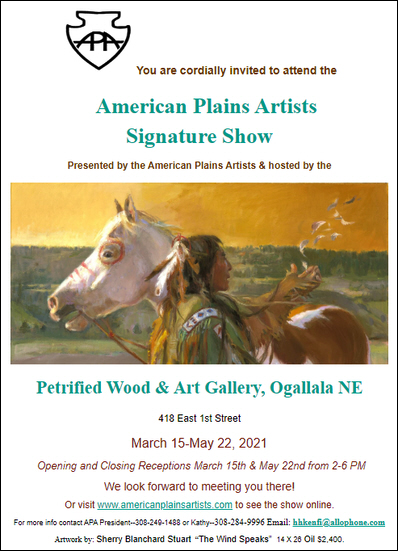 autographed and remarqued book Ogallala, a Century on the Trail by Elaine Nielsen whose husband and daughter chose the award-winning artwork.
The APA Signature show continues through May 22, 2021. The public is invited to see this "Art of the Plains" show and is also invited to attend the ending reception on May 22nd from 2-6 PM. The Petrified Wood & Art Gallery is located at 418 East 1st Street, Ogallala, NE, and is open 8 AM-4 PM MDT Monday-Saturday. If attending the show in person is not an option, the public is encouraged to view the APA exhibit following the link below. For more information call the gallery at 308.284.9996.