2018 Signature Show Award Winners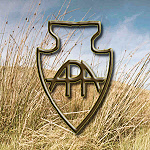 The APA extends a warm congratulation to the 2018 Signature Show award winners! Hover over the images for info and click to see larger.

You may view the rest of our show here.
Our show is hosted by the Preserving Arts in the Osage at the Ole' #1 Firehouse Art Center in Pawhuska, Oklahoma, March 24-April 28, 2018.

Hope you can see the show in person. If interested in purchasing artwork, please contact us!